Differentiation strategy, custom exhibition booths, unlimited options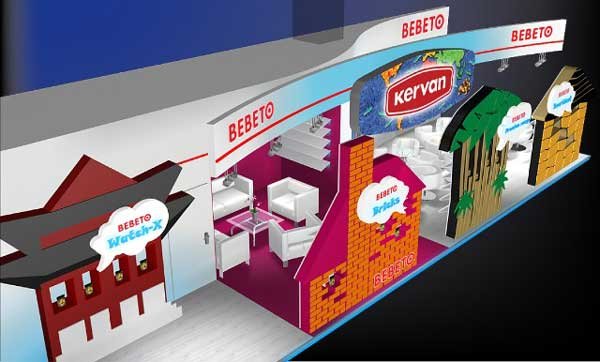 Refreshing look: Don't get boring
Custom exhibition booths gives unlimited design possibilities to exhibitors as all parts are custom built. A refreshing look for the next exhibition or a new concept can boost the exhibition presentation. Exhibitors create their custom trade show presence by keeping a recognizable look with previous fair presentations or they decide for new innovative design concepts.
A new custom exhibition booth often are completely different than the previous year concept. A new exhibition booth design can surprise audience with a brand new concept show innovation, modernity. The recognizable elements are often only logos and some color combination.
Completely new can be impressive
Activteam exhibition markenter David Blonde says: "This is a fine strategy to attempt the position as an innovator in the market segment specially for brands established in the market, if the company is well known.
Modern custom exhibition booths can impress. Potential customers may choice the company as they expect to see something different and new. The strategy can work in a market with old conservative established companies."
but according to David Blonde some accents and some characteristics of the company should be implemented in any new concept.
Custom exhibition booths with a strong visual identity gives an organization its own look, makes the company recognizable, increase the company's importance. Implementing in the exhibition booth design company's characteristics is a key issue especially in today's crowded markets, where the exhibitor can get lost in the crowd.
Activteam provide custom booths for every business and industry. Our markenters and designers will incorporate your visual characteristics in the new booth design concept. We provide concepts where the company's characteristics and every element and design will be aligned with the brand and the marketing strategy.
Custom exhibition booths
Keeping the company's position at the market strong
The corporate identity creates an impression of the company, shows the style of an organization, without descriptive terms. Successful custom exhibition booths presentations needs a professional visualization of the exhibitor's corporate identity by creating the general look, color scheme and the right booth design concept to enhance the visual identity of an organization.
Our designers are working extensively with exhibitors and every time they introduce new products or services, we provide custom exhibition booths that are consistent with the exhibitor's corporate identity, keeping the company's position at the market strong.

We design custom exhibition booths and provide a substantial and perfect sales plattform for your exhibition presentation.