Activteam Exhibition Stands
Who We Are
Activteam has invested over 20 years in creating one of the world's most admired brands in the exhibition stand design and build industry. Customer, trust, and convenience have been core values since the company's beginnings as a stand design and construction company in 1997.

Today the organization designs, build and manage exhibitors exhibition stands Europe wide. As the European leading supplier since 1997, our custom build exhibition stands are associated of invention and dynamic. Our objective is to project exhibitors as leaders in the marketplace.
What We Do?
Activteam offers a reliable and efficient stand building network with two production units in Central Europe. We are permanently reviewing our carrier performance, in order to provide you an optimum cost/service performance in design and Build service for all European geographic regions. Real time system supervision provide full design and exhibition stand manufacture and administration capabilities.
We design and build cost-effective exhibition stands for every industry. With modern concepts design and styles Activteam is a sinonyme for quality designs, cost control and construction excellence.
Innovative Exhibition Stand Design
Tailored solutions to a more fresh and adaptive culture, designing innovative, passion-evoking stands based on vision and strategy.
Manufacturing, Build Up & Installation
As top rated exhibition stand builders, well known in the exhibition industry. We create custom exhibition stands with the latest technological innovations, for stand constructions with the highest quality materials and the finest finishing. Find advanced exhibition building solutions, covering the entire fabrication and supply cycle. Trustworthy, high quality with the implementation of advanced technologies, coupled with custom design capabilities.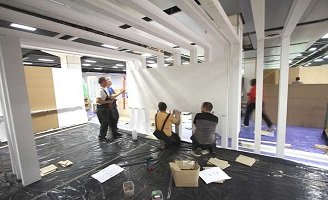 Stand Out With a Remarkable Trade Show Presentation


Amazing and exclusive stands, spread a noteworthy picture to the prospective audience that will identify the company as a top rated business. Establish the ultimate presentation with Activteam.