Innovative fresh exhibition design - Customized solutions for every company and branch
It can be hard planning a workable pressentation strategy without the right partner. You've developed an outstanding business idea, however, there is no traffic and no sales congratulations. By Activteam you will find marketers that will help getting your organization started with an effective event preparation.
Activteam is the first name when searching for a unique custom exhibition design company.
Activteam is a leader in exhibition booth design and build providing to exhibitors enhanced custom booth solutions with expertise in trade show marketing.
We provide innovative exhibition booth design and high quality construction. Exceptional project management.
Our aim is to bring event marketing to a professional level, increasing exhibitor's reputation and leadership in the market segment. Activteam is an exhibition design company with over 15 years experience with a design and construction history of thousands of booth design and construction.
We undertake all services from booth design - project management, marketing advice, custom manufacturing and build up on the fairground.
We provide booth design and construction for global brands, governments, small and medium companies searching for a long term trade fair marketing strategy.
Attractive, impressive exhibition design for companies that target brand awareness
Design and quality can say a lot about the exhibitor. The first seconds can tell an entire story about an exhibition booth presentation, the exhibitor's image, if the presentation enhances trust, if the company looks serious. A booth can create attention with a nice design and invite potential clients by creating curiosity or by transmitting a message that gets attention.
A constructive atmosphere can give a positive experience, a good stand atmosphere, sets the stage.
Our designers are masters in creating booth projects where atmosphere, messages, information visuals, multimedia and the point of interest are aligned with a workable concept. We create not only the professional business environments with character, we create also a leader image, where business negotiations can be taken place in a trustful environment.
Custom designed exhibition booths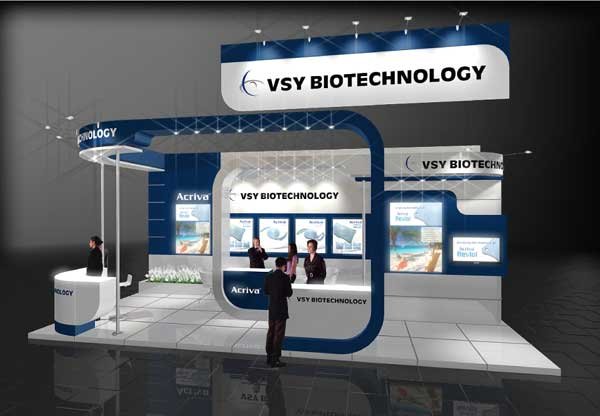 Activteam exhibition booth design constructed in London, UK.
Finding the right partner
Finding the ideal exhibition design company, play an important role when planning a successful presentation. In order to get a well-planned and wonderfully structured stand, good quality communication together with your exhibition booth contractor is very important, while going to share information, requirements and wishes during the planning and the construction.
Contact a professional exhibition booth design company for ideas for your planning, design and construction. Activteam offers credible, creative and financially manageable ideas and ways of optimize your exhibition booth.