Get the exhibition support for your upcoming exhibitions in Amsterdam. For all below exhibitions we provide design and construction service.
For Activteam's designers, great exhibition design requires continuous attention to the smallest detail. Every aspect of a custom stand, down to the tiniest element, is designed and finished to perfection. It is this attention to detail that separates good designers from great ones.
Exhibition booth design and build in Amsterdam, Netherlands.
Activteam targets quality-conscious exhibitors who recognize and prefer high quality over the ordinary, and are willing to pay for it. In an economic climate where most vendors are focused on price and cost-cutting, Activteam is serving exhibitors who understand how the quality of an exhibition stand can reflect directly on the exhibitor results.
While resolving the conflicting concerns of efficiency, affordability and environment, the Activteam design group's attention to details succeeds in adding high value and projecting with original ideas the most positive image for the exhibitor.
Booth designed for IBC Amsterdam trade show.
Exhibitions can promote your products and services on worldwide scale. And those exhibitors who are more innovative and adaptive tend to be the favorites on the exhibition, particularly if something is new and never been seen before. As technology advances, so do the expectations of attendees and therefore in order to stand out from, common build presentations, you need to look to the future and change.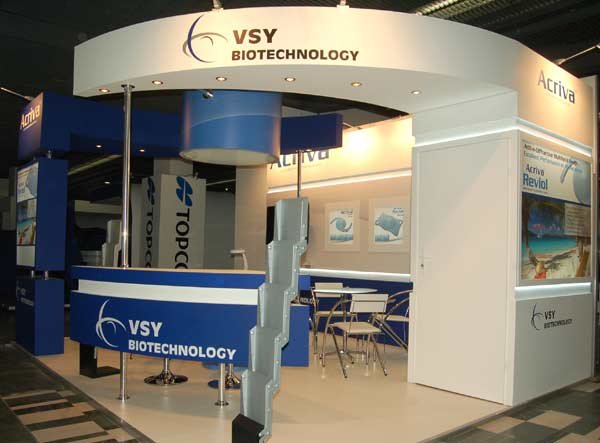 Exhibition booth build in Netherlands.
Your particular first impression incorporates a high correlation with the actual long-term status of your relationship. There is not much time for you spare on your initial demonstration either. Our first opinion of someone forms in only in a few seconds and home.
Activteam offers design, manufacturing and build up of exhibition stands in Netherlands also in: Amsterdam - Utrecht - Rotterdam - Maastricht
For the folowing trade shows and many more: Building Holland - AQUATECH - SIERAAD - International Jewellery Art Fair - METSTRADE - Marine Equipment Trade Show Amsterdam - Masters Expo - IoT Tech Expo Europe - Free From Functional Food Expo - WBWE - World Bulk Wine Exhibition - IBC - International Broadcasting Convention Amsterdam - Masters of LXRY - PLMA'S 'World of Private Label' - HORECAVA - Wine Professional - Wine Exhibition Amsterdam - IAMS - Internationale Automesse - INTERTRAFFIC Amsterdam - Building Holland - DENTAL EXPO - FLORIADE - IAMS -International car fair - Interclean - International Trade Fair for Industrial Cleaning - Evolution Amsterdam - Surface & Pattern Design Show